Activity 1: Comparing type fonts and the impact on your logo
During his time at the Ecole des Beaux-Arts in Bordeaux in 2002, Jack Usine, an enthusiastic draftsman and typography enthusiast, established SMeltery.
With a background as a graffiti artist, Usine maintains a close connection to the urban environment and its signage, which serve as both inspiration and subjects of examination. By harnessing the power of vernacular elements and utilizing words as a medium, he delves into the realm of alphabets—an expansive domain that intersects typography, graphic design, and art.
Click on the link below:
http://www.smeltery.net/fr/a-propos/jack-usine
Explore the different artistic fonts and letterings. Think about the following questions:
Can you see the relationship between the vernacular and the social thinking?
Can you see how aspects of Usine's environment helped to impact his work?
Do you see any fonts that would suit your own business?
Activity 2: Developing a logo
In this activity you will learn about some of the things to think about when you are creating your own logo. Firstly, complete the exercise below which will help you to think about some of the things that might influence your logo.
Step 1: Understanding Your Brand
Before you can design a logo, you need to understand what your brand stands for. Answer these questions:
What are your brand values and mission?
What products or services do you offer?
What is your brand personality? (Is it professional, playful, innovative, traditional, etc.?)
Who is your target audience?
Step 2: Research
Look at logos of successful companies, especially those in your industry. What do they look like? What elements do they have? Take notes of what you like and dislike about them.
Step 3: Brainstorming and Sketching
Think about symbols, images, or icons that could represent your brand and start sketching out your ideas. These should align with your brand's personality and values. Consider typography and colour schemes that would resonate with your brand's message.
Step 4: Refinement
Review your sketches and select a few ideas that you believe best represent your brand. You can use a digital tool like Adobe Illustrator to develop these sketches into more polished drafts.
Step 5: Feedback and Revision
Show your drafts to colleagues, friends, or ideally, members of your target audience. Gather their feedback. Do they understand what your business does from the logo? Does it appeal to them? Revise your logo design based on the feedback you receive.
Step 6: Finalize Your Logo
After making the necessary adjustments, finalize your logo. Make sure you create variations that will work in different contexts (like a version for dark backgrounds, a black and white version, a version that includes your brand name, etc.)
It is important to remember, a logo is only a part of your brand identity. It should resonate with all other elements of your brand such as colour schemes, typography, and overall aesthetic in marketing materials. It's okay to iterate and evolve your logo over time as your business grows and changes.
Curious about the process that the INVOLVE project went through to create our brand? Check out the link below for some early versions of our branding:
Activity 3: Make inside play with the outside!
In this exercise, the idea is to be creative with external objects and create a unique experience with them! In the link below, you will find a YouTube video where the INVOLVE team did this activity, where we used a picture from an existing window (the Naqu1oeil shop window), and we were creative with it! Click here to see what it looked like:
The idea of this exercise is to help you to become more creative, and think about how you can showcase your product or services in a different way to normal! You can create custom handmade showcase using humour, surprise, a secret plan, create a relationship or devise anything you like instead of using regular commercial methods of trying to create a showcase for your products.
The Naqu1oil team also recommend making a handmade window every three months, with a collection of your favourite examples.
Activity 4a: Wearing a brand of yourself!
For this activity, you will need somebody else.
Step 1: Split up into groups of two people.
Step 2: Draw a portrait of your partner, whilst they are drawing your portrait.
Step 3: Whilst you are drawing your partner, both you and him answer these two questions:
What do you like most in life?
What do you like the worst in life?
Step 4: Wear the portrait like a badge (or a brand of yourself)!
For more examples click on this link: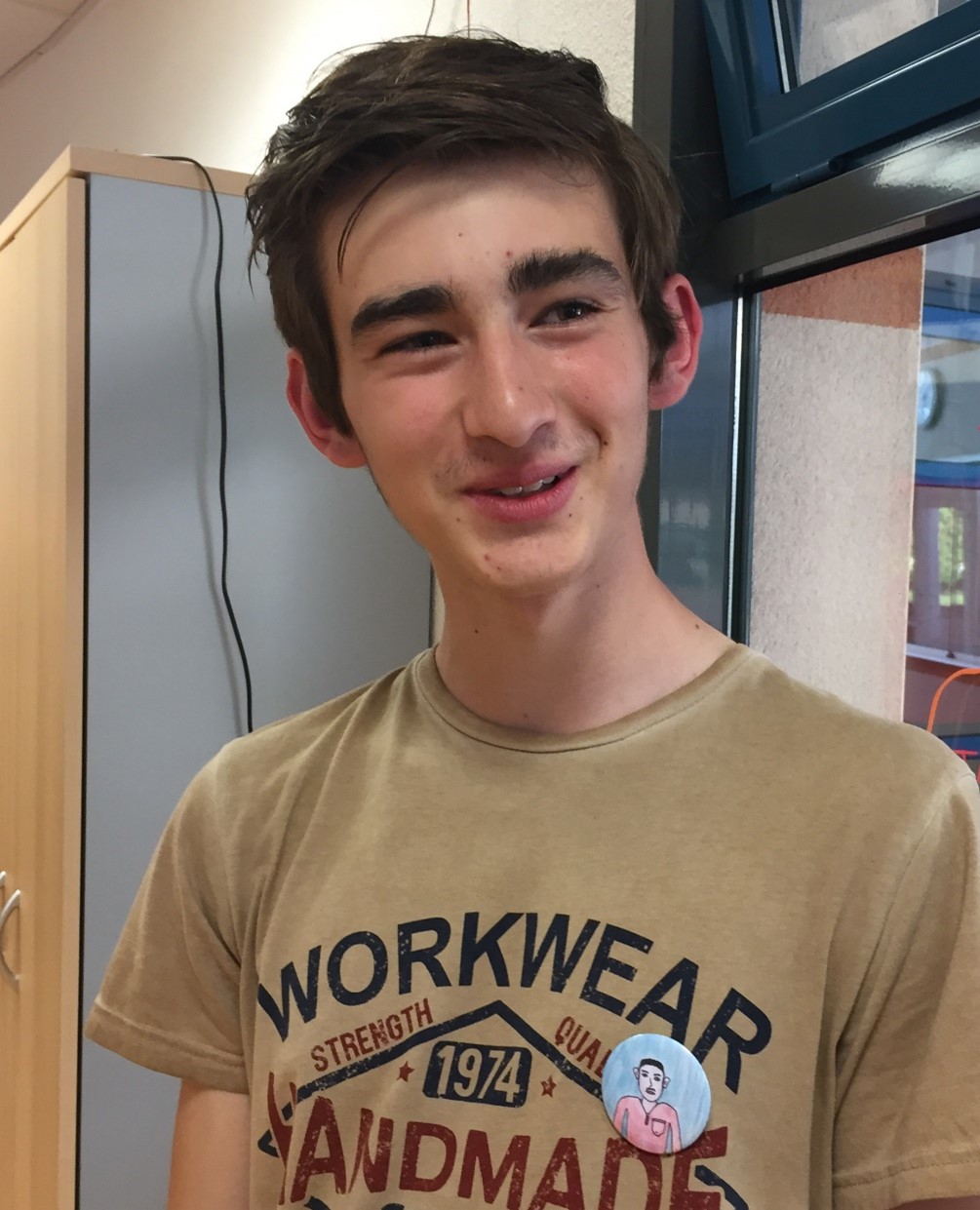 Exercise 4b. "LES GENS QUI MONCADENT"- People who are telling what they are:
This is a different version of the above exercise, but also gets you to practice graphic design and writing!
Step 1: Think about something that is one of your best qualities that you feel you are happy to claim  it in public
Step 2: Create a board/ poster that you can wear advertising this quality/ fact about yourself!
Step 3: Wear it with pride!
To see some extra examples, you can click on the link below: