Testing visual literacy workshops
---
As part of the INVOLVE project, funded by the Erasmus+ Education and Training Programme, the French partner specializing in in visual arts, N'a qu'1 œil arts conducted 3 visual literacy workshops to improve the skills of entrepreneurs, between April and June 2021.
N'a qu'1 œil for 25 years has been specialsing in visual arts and in visual research on the book and how it is brought to life.
Let's go through the 3 workshops together.
---
Workshop 1 : Overcome the distance between us
The first two workshops were held using Zoom because of the travel restrictions. The Internet brings us closer but doesn't erase the distance between us. It is with this limit in mind that N'a qu'1 œil has proposed two first workshops to overcome the distance between us.
To break the ice, N'a qu'1 œil proposed a first playful workshop to create a link between the different partners. All of us behind our screens, from Bordeaux (FR), to Peristeri (GR) passing by Dundalk and Leitrim (IR) and Valby (DK), with pen and paper in hand, here are the rules of the game we had to follow :
Choose someone to work with.
In a printed circle, draw your partner in 2 minutes maximum.
Ask your partner 2 questions and write down the answers : "What do you hate the most in life ?" & "What do you like the most in life ?"
All apprentice artists, we played the game and got to know each other… and laughed a lot.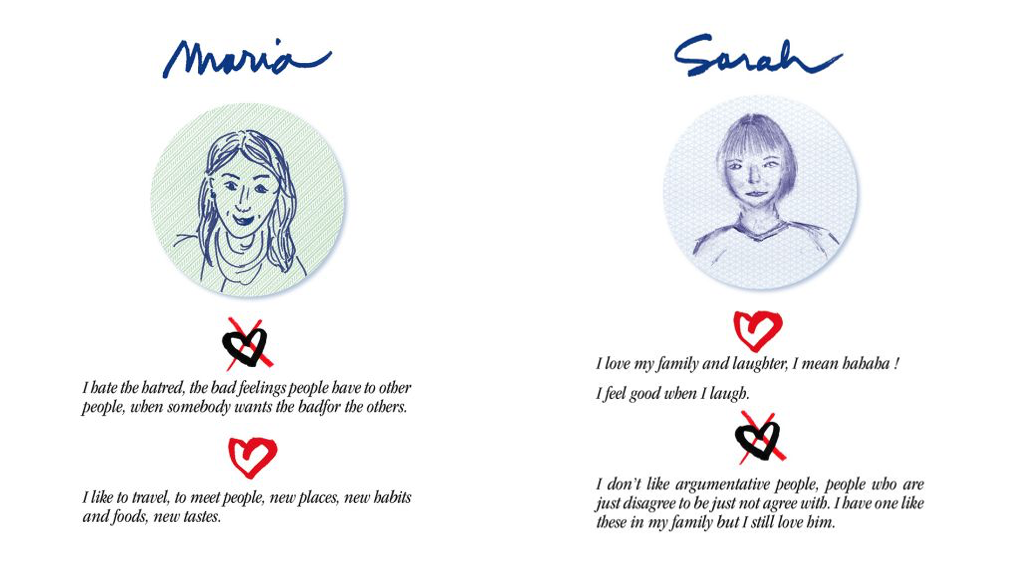 ---
Workshop 2 : We don't have a mouth anymore
To continue the experience and strengthen the cooperation between us, in the second workshop, N'a qu'1 oeil wanted to go further and hijack an element that become central to our lives in recent months… the mask.
Starting from the fact that "we don't have a mouth anymore" since the lasts months, all of us in our offices had to draw our "new mouth" on our masks in order to show our most beautiful smiles.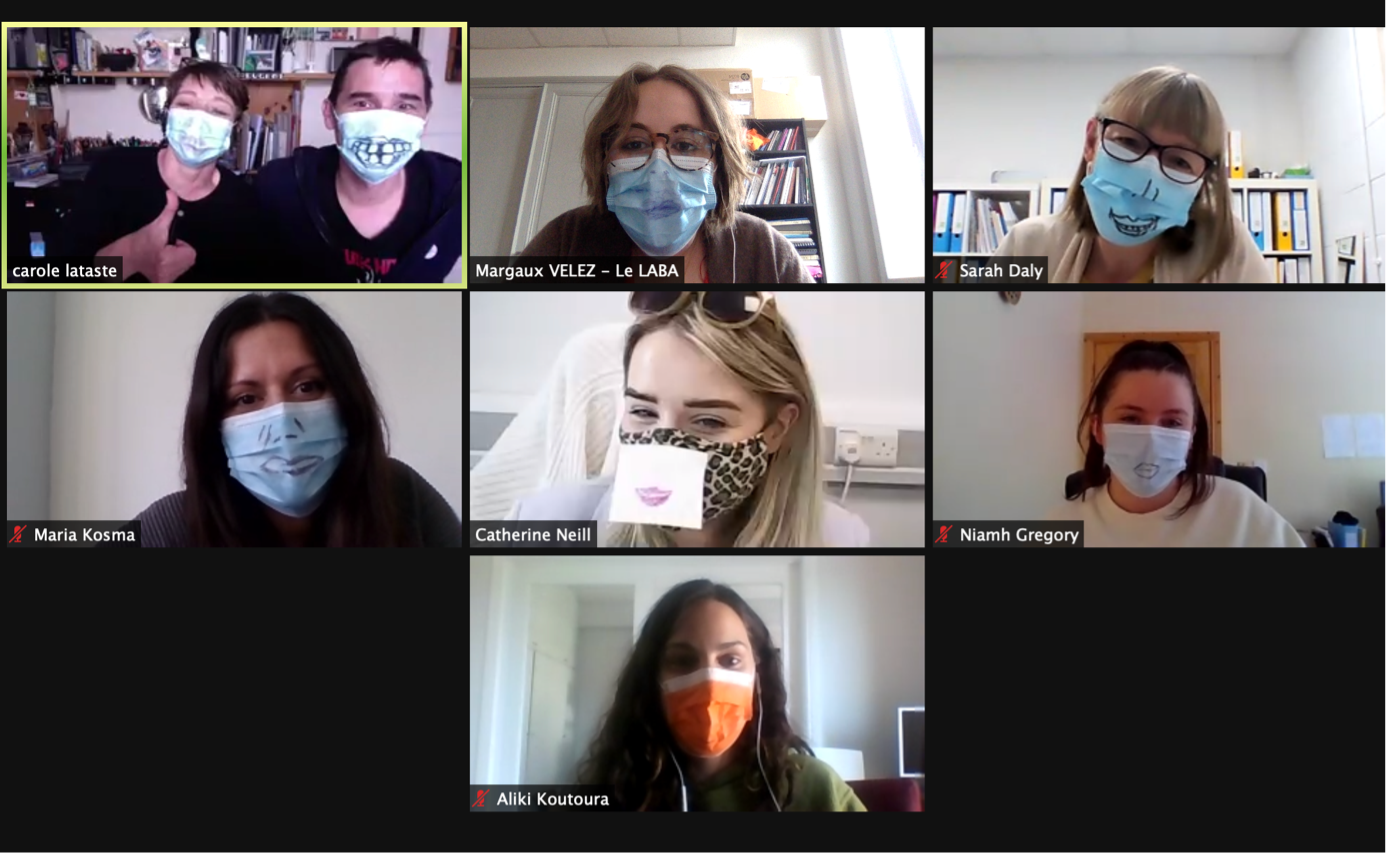 ---
Workshop 3 : Imagine our secret (night) life
The last exercise proposed proposed allowed us to strengthen the collaboration between us but this time within each of our organization.
Face-to-face for the LABA team and remotely for the other partners, each step of this workshop allowed us to discover each other professionally and personally in a different way !
The first part of this workshop was a time of questions to discover each person's perception of our working environment and of the country in which we live.
In the other exercise, all equipped with pen and paper, in pairs, we had to draw the look of our teammate. The look, one the most expressive and revealing parts of a person's face. What a daunting exercise !
The last exercise allowed us to challenge our creativity and imagination. Between colleagues, we had to imagine the secret (night) life of each other and draw each other. What an unusual exercise in getting to know each other better ! This last workshop allowed us to discover each other from a different perspective and to learn more about each other.
The LABA shares with you some of its productions …

Discover the secret life of our project manager Jessica Favarel written by our young communications trainee Mathis Tessier :

The secret life of Jessica Favarel
Jessica has never hidden her a3rac4on to Spain and its culture, but she has never told anyone about her nightlife.

Every odd day, at precisely 12:13 am, she goes to an banal tapas restaurant located near La Victoire. Underneath the ordinary restaurant are deep tunnels leading to a huge room.
What looks like a cave is in fact a large recep4on room, where the stone walls are covered with Hispanic tapestry. It is in this strange place that Jessica and some of her disciples dance flamenco on wild nights. This explains her difficult mornings at the office.